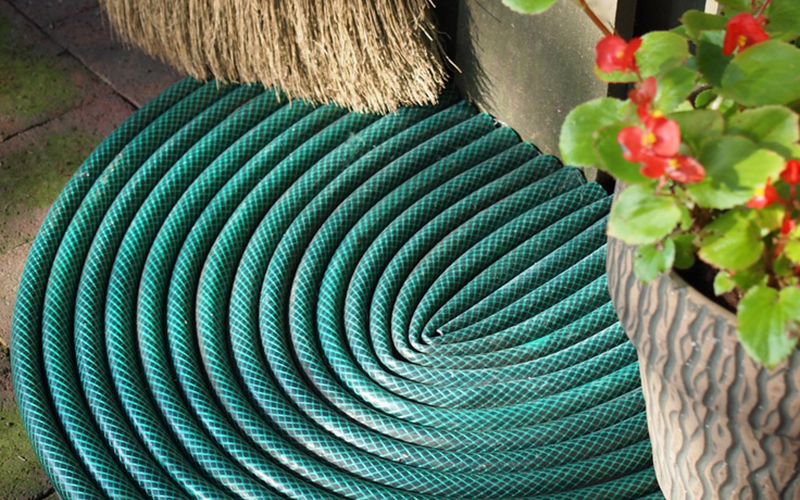 As we all prepare for a great season of gardening, I'm sure you're coming across some gardening tools that have worked all their gardening magic and seen their day in the dirt.
For me, the time had come for an old garden hose. For weeks, I'd been trying to throw out a very used and very leaky hose and the city garbage men refused to take it! Annoyed as I was, I thought they must be sending me some type of message urging me to repurpose and reinvent this green coiled mess.
Anyway, as you can see, I decided to transform the garbage misfit into a very useful garden hose doormat.
The best part? It's so easy to make, anyone can create their own version of this doormat once their hose begins to leak…
You'll need:
A leaky garden hose
A square, inexpensive doormat (I bought a square gray door mat for $1 at the localChristmas Tree Shop)
Gorilla Glue adhesive at a craft or hardware store. I used three tubes of the stuff for this project
Garden pruners (to cut the garden hose)
Strong scissors to cut down the mat
Heavy garden pots or bricks to use as weights to hold down the hose sections while the glue dries (Actually any heavy object will suffice. You can also used clamps)
.75" x .94" corks (to seal the cut ends of the hose lengths)
Here's how you do it:
Place the doormat on a flat surface.
Using the garden pruners, cut a section of the hose so that it creates the outer half circle of the mat. Don't worry if the ends of the hose hang over the mat, you can trim them off when you've finished gluing all of the sections onto the mat.
Place a generous amount of glue on the hose then position it on the mat. Remember, you're working with the outer half circle first.
Position heavy pots on this first section to keep in place and let dry overnight.
When the first section is dry, simply repeat with all of the remaining cut hose sections to fill in the half circle using heavy objects to hold the sections in place.
When finished and all of the hose sections are dry, cut the ends with the pruners so that they are all the same length.
Glue and insert corks into each of the ends to seal the openings.
Finally, with a scissors cut the door mat base to the half-circle shape you've created.
Done!